Since the Sunbutter cookies I posted the other day only lasted a day didn't last long, I decided to try my hand at some allergen-free buckeyes. Buckeyes are a tradition in my family, and perhaps because I was born & raised in Ohio, it's kind necessary for me to make them every holiday. Having multiple food allergies can be a challenge when baking, but this recipe turned out might good!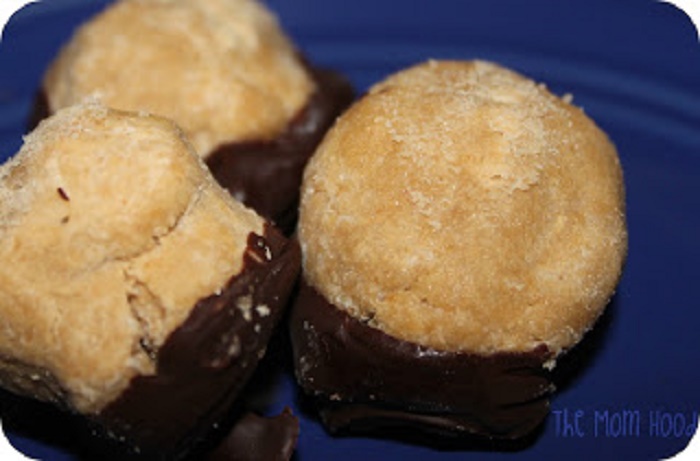 3/4 cup Sunbutter
1/2 cup butter substitute, softened (I used Earth Balance)
1/4 teaspoon vanilla extract
3 cups powdered sugar (I made my own using my Blendtec 
 since I have a corn allergy)
2 cups Enjoy Life chocolate chips
In a bowl, mix Sunbutter, butter substitute, vanilla & powdered sugar. The dough will seem really dry, but that's ok – that's the way it should be. Roll into balls and place on a parchment-lined or wax paper-lined cookie sheet. Insert toothpick into balls (this will help with dipping into the chocolate later) and put cookie sheet in the freezer for around an hour.
Melt Enjoy Life chocolate chips in microwave-safe bowl in increments of 15 seconds. Stir after every 15 seconds, until fully melted. Take frozen Sunbutter balls and dip into melted chocolate, then put on lined cookie sheet and refrigerate to harden chocolate.
This made about 25 golf-ball sized Buckeyes for me. I'm whipping up another batch today, because those 3 that are in the picture are about all that's left. Darned house elves.