The other day I was perusing the Pottery Barn holiday catalog and noticed these glass acorns: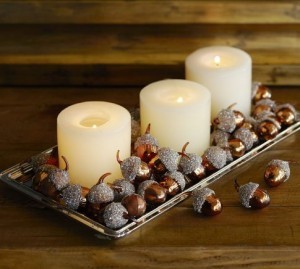 Pottery Barn Glass Acorns via PotteryBarn.com
12 of them for $14.50. "Hmmm…," I thought. "I could've sworn we had some acorns outside." So Emma and I bundled up and headed into the side yard, where, sure enough, we found acorns. Apparently it's hoarding time for the squirrels, because our furry friends seem to have taken most of the whole ones. We still were able to salvage 14 of them, enough for me to try a project. (I'm keeping an eye out for more acorns next year so I can add to this. Those squirrels better watch out!) And so it began:
Materials:
Acorns
Rustoleum Gold Spray Paint
Fine silver glitter
Elmer's Craft Bond Tacky Glue
Since the acorns had been outside, I wanted to make sure there weren't any buggies in them, so I put them on a piece of aluminum foil and dried them in the oven at 175 degrees for a few hours. I let them cool completely, then headed to the garage, where I found my new love, Rustoleum Gold Spray Paint.
I sprayed one side, waited until it dried, then sprayed the other. It doesn't matter if you get the tops, as you'll be putting glitter over them.
Once they were all dry, I put some Elmer's Craft Bond Tacky Glue on a plate, and with a paintbrush, painted on the tops of the acorns. If there was a stem, I tried to leave it so that the gold would show there.
After the glue was applied to one, I rolled it in the fine silver glitter
And voila! My own Pottery Barn knockoff!
I haven't decided yet how to display them, since we only ended up with 14. I've been playing around with it and have these 2 ideas so far:
The price? Well, I had the acorns courtesy of Mother Nature, the spray paint was something I had from another project, I always have Elmer's Craft Bond Tacky Glue on-hand for craft projects, and the glitter was in my scrapbooking bin. So, uh, FREE! Sure beats $14.50 for 12, huh?
This post has been linked up at:http://www.lisascraftblog.blogspot.com