As your baby transitions to toddlerhood, they will explore more and learn faster than ever before! The right toddler clothes for daycare will help them discover new sights and sounds more safely and comfortably. They will also look adorable for their class and their teacher! The following tips will help parents transition from infant outfits to new toddler clothing, all while ensuring your toddler has a fun and comfortable time while you are away.
Source: FamVeld/Shutterstock.com
Watch the Weather
Check the weather forecast before you and your little one head out the door. In the spring and summer, kids may eat their lunch outside or spend more time on the playground. Lightweight clothes will help to keep them cool, while moisture-wicking clothing helps toddlers to stay comfortable and dry in all seasons. There are many garments with technology that helps to block harmful UV rays from the sun, which can also be helpful when the weather is warm.
Check with the teacher to see if they allow hats or sunglasses. These accessories can be especially helpful for making playtime more comfortable on especially bright days. If there is rain in the forecast, put a rain jacket in their backpack. Even if they do not use it during daycare, it can help to keep them dry when transporting them to the car.
During the fall and winter, your toddler may need a coat or jacket. Do not forget to check the daytime low temperature to see if they may also need gloves, mittens or a hat. Cozy socks can make playtime more comfortable on a cold day. Long-sleeve thermal bodysuits and tops can help to keep your child warm.
Add Some Layers
Layers are always helpful for both parents and teachers. A hooded jacket or coat with a hidden zipper makes it easy to keep children warm when you are driving them to school. They are also helpful when doing activities outdoors. If the heater is on in the classroom, an outer layer can be removed and placed on their chair for when it is time to go home.
Dress them in a short-sleeve or long-sleeve cotton top underneath their outer layer. This will help to keep your toddler comfortable while they learn and play inside. Sweatpants, leggings or stretchy jeans make great bottoms. A second pair of clothing can also be helpful. Pants worn in the morning can be exchanged for pull-on shorts if it gets warmer in the afternoon. A short-sleeve bodysuit or tank top worn underneath a long-sleeve shirt can help to make your toddler cooler.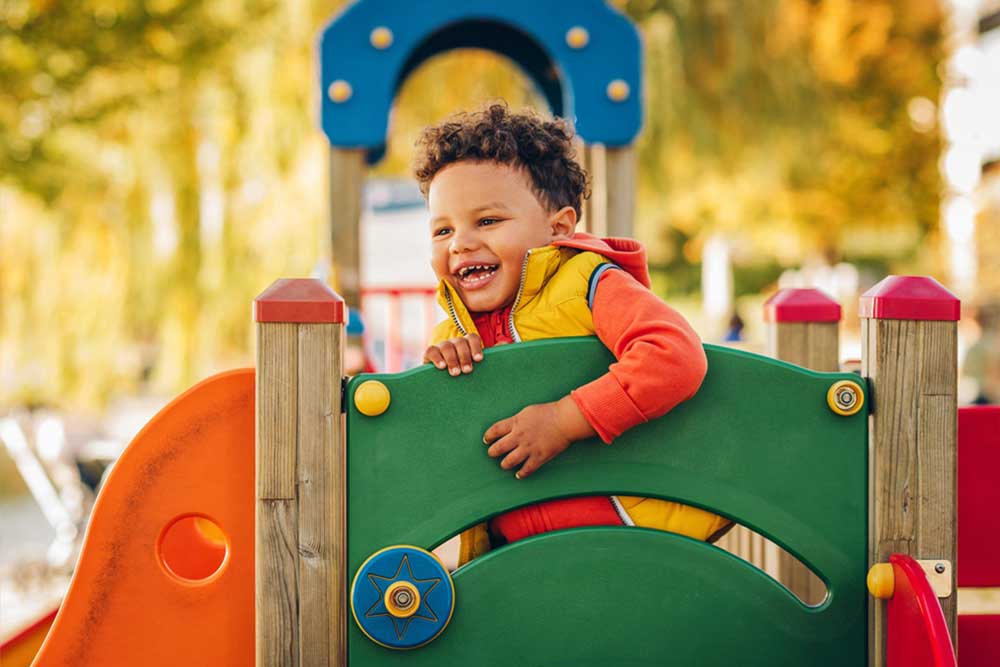 Choose Soft, Comfy Fabrics
Your child will feel and behave better at daycare when their clothing is soft and comfortable. Cotton and organic cotton are two of the best options for toddlers because they are both ultra-plush and durable. If you are searching for a little stretch in leggings or shorts, cotton blends are also appropriate for little ones.
Avoid scratchy materials and fabrics that trap heat and moisture. The best fabrics help sweat and warmth to travel away from your toddler's body. If you are looking for clothing that is trendy and fashionable, cotton toddler clothing comes in vibrant colors, fun prints and adorable patterns.
The popular toddler Onesies® Brand Bodysuit layers easily and pairs with nearly every type of bottoms. Find them in stripes, animal prints or bold colors for toddler boys. Toddler girls always look cute and stylish in polka dots, flowers and hearts. Leggings, pull-on shorts and cotton tops are also some of the most convenient and soft choices for small children.
Choose Convenient Features
Many toddlers are transitioning away from diapers, which means that teachers will still have to change their daycare kids during the day. Bodysuits and one-pieces with snaps at the diaper area will make changes easy. Add a couple of extra one-pieces to your little one's weekly clothing. If they have an accident or get into a mess during daycare, their teacher will easily be able to change them into a new outfit without any fuss.
Pull-on clothing is also convenient for parents and daycare workers. While you will be able to dress your toddler quicker in the morning, it will also be safer and more convenient for helpers to make a fast change and get back to caring for the class. The best shoes are also easy to pull on and off. Shop for stylish slip-ons or sneakers with easy Velcro® fasteners, which will help keep them safe and complete their look.
Avoid Garment Dangers
Unfortunately, some of the cutest toddler clothing may also include garment dangers. While it is always important to focus on the fun your child will be having at daycare, parents will be wise to consider clothing safety for children. To be on the safe side, avoid sending your toddler to daycare with long, hanging strings on their clothing. This includes jackets and hoodies that could get caught in playground equipment.
Other potential common garment dangers include exposed zippers, flammable clothing and tops that are too tight around the neck. Some overly loose clothing can also create hazards when playing in the classroom or climbing outdoors. Prevent any possible safety issues by ensuring your toddler is wearing the right size clothing for their needs. Always wash and dry garments according to the instructions on the tag. Check their outfit before they leave and always send them with backup outfits that fit.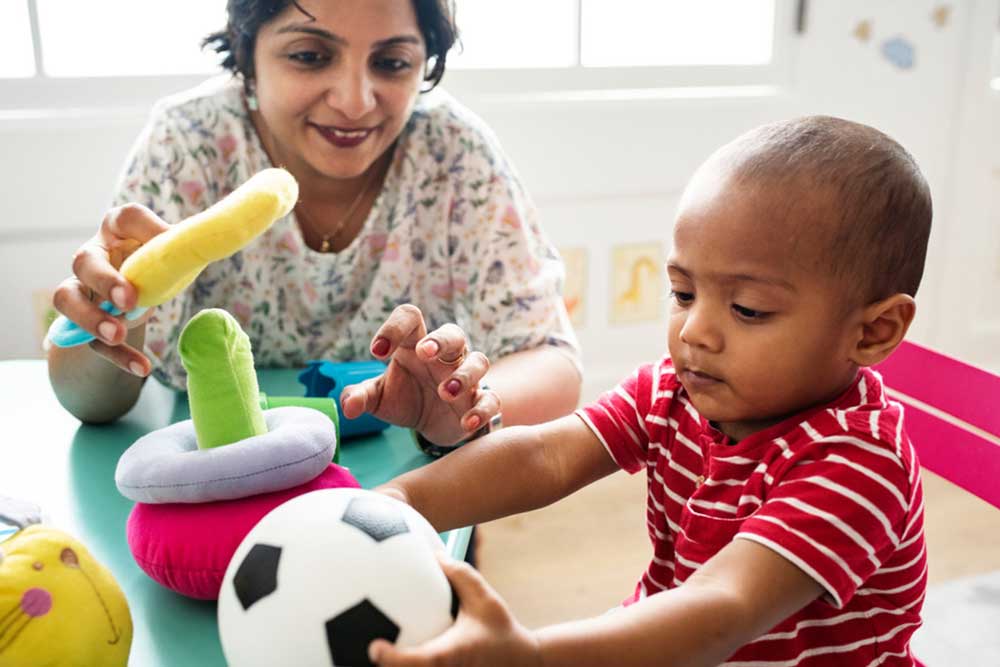 The Best Toddler Clothing for Daycare
When you choose clothing that is comfortable, safe and convenient, your toddler is sure to have a wonderful day at their daycare. Your child's teacher will also appreciate the thought you put into their outfits. What's more, you will have the peace of mind that your little one is comfortable and happy while you are away.